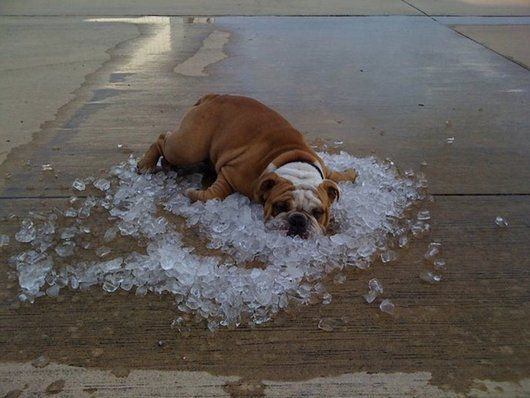 5 Ways to Keep Your Pets Cool This Summer
Considering to make improvements to your lifestyle before summer arrives? Want to keep cool? Don't forget your pets too. Animals just like Humans get dehydrated and tired in summer time. Summer becomes a problem when the bright scorching heat of sun makes the temperatures rise high, making daily mundane activities difficult to do. Same is the case for your pets and you need to take care of them more than the usual. To help you out, we have compiled a list of 5 ways to keep your pets cool and relaxed this summer, they are the following:
Keep Them Hydrated: One of the most intuitive and simple way to keep your pet cool is to keep them hydrated. Provide them cold water, as many times as you think suitable. As it can be said for cold water in hot summer is that more may not be enough.

Feed Cold Treats: Feeding your pets tasty cold treats throughout a hot day can be a really effective idea. Treats can include cold items such as ice creams and watermelons without seeds. This will definitely keep them cool throughout a hot day.

Trim Wisely: It's very important to note that trimming your pet's hair is a good thing but only in the proper proportions. Like, some people make the trimming look like shaving and their pets' skin starts to show. This actually worsens the situation for your pet, it exposes their skin to sun burns making them agitated and lethargic. The perfect thing to do is to trim your pet's hair in a proper proportion and then later apply sunscreen all over them. This will definitely help them survive the heat.

If it's Too Hot, Leave Your Pet Home: This seems understandable enough. When you know it's too hot outside, it's best to leave your pet at home while you go out. Although, taking your pet out in the cool evening's breeze is recommended.

Wrap a Cold Bandana: One last cool tip to keep your pet cool is to wrap a cold bandana around your pet's neck. But before wrapping, soak the bandana in water and keep it in the freezer to let it freeze. Once you feel its cold enough, take it out and wrap!
We hope this list of 5 Ways to Keep Your Pets Cool This Summer will help you take care of your pet. To get more tips on keeping your pet cool and Home Improvements, visit us at www.maggiesshutters.com! Require our services?